EZ Herbs herbal products for women are custom blended, by hand. In addition to the products listed below, other blends can be created to suit your specific needs. Choose from these handmade products or contact Ellen to customize products for your particular situation.
*Please note that these products are not intended to diagnose, treat, cure or prevent any disease. If a medical condition persists, please consult a health care professional.
Products may be purchased online through PayPal or email Ellen. All shipping is processed by Priority Mail.
Please visit our herbal info index page to learn more about each herb used in ezherbs products.
---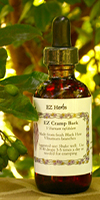 EZ Cramp Bark
Made from the freshly harvested Black Haw Viburnum branches of our Texas Native, Viburnum rufidulum.  NEW!
2 oz $23.00
---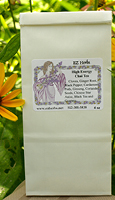 High Energy Chai Tea
A delicious, energizing blend of Cinnamon sticks, Cloves, Cardamom pods, Ginger root, Coriander seeds, Black Pepper, Chinese Star Anise, Black Tea, Ginseng and Guarana. Enjoy this blend with honey and vanilla/plain Almond milk.
4 oz $14.50
---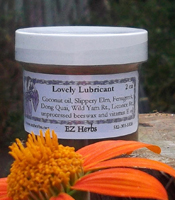 Lovely Lubricant
Soothing salve for vaginal dryness and irritation.
Made from Coconut oil, Slippery Elm powder, Wild Yam root, Fenugreek, Dong Quai, Licorice Root, and vitamin E oil.
FOR EXTERNAL USE ONLY
2 oz $35.95
1 oz. $19.50
Special order only.  Contact Ellen.
      LIMITED SUPPLY NOW AVAILABLE
"Your Lovely Lubricant has been helping greatly with dryness of the vagina and cervix. I've experienced an amazing improvement in the past month that I've been applying it daily."
-Kathy
---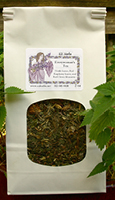 Everywoman's Tea
A lovely blend of Nettles, Red Raspberry Leaf, and Red Clover blossoms. This tea blend is good for women of childbearing years through menopause.
2 oz $13.50
---
Yoni Powder
A fine powder made from white clay, Black Walnut hull, Goldenseal, Myrrh and cornstarch for genital herpes and yeast infections.
FOR EXTERNAL USE ONLY
1 oz. $14.50
---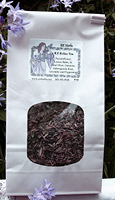 EZ Relax Tea
A blend of St. John's Wort, Passionflower, Lavender, Lemon Balm, Alfalfa, Oatstraw, Valerian root and Peppermint.
4 oz $13.50
Amy, a happy mom wanted to share a special story with you. We have been struggling with Asa's belly problems for over a year. After much testing, and many doctor appointments, at age 3 they wanted to give him prilosec (for life). Eli and I thought that there must be a root cause to all his problems: dehydration, unwilling to drink anything, constant stomach aches, diarrhea, intense mood swings, anger, pain, frustration over the smallest thing, dark circles under his eyes, lack of energy, total exhaustion, sensitivity to sound and light. Well, we decided to look at his diet and had already removed dairy, so when all the "tests" said no allergies, we were stumped. My sister said "try removing gluten" so as a last ditch effort we did! And wow! What a difference. Even though they had run a number of tests for gluten intolerance, nothing showed up. Once the gluten was gone from his diet, all the symptoms left instantly. Our only problem was that he still did not want to drink anything, which would lead to dehydration. We drink mainly water here and a little juice, but juice is too strong for his tummy. Long story short, he started asking for warm tea and I have been giving him your EZ Herbs Relax Tea (very diluted) with a bit of honey and almond milk. He gobbles it down and he is super calm and happy after drinking a cup. From there he will drink water or almond milk happily all day. This tea has CHANGED OUR LIVES! Thank you so much for all your effort and love to make a natural product that soothes and calms.
With much love and gratitude!
---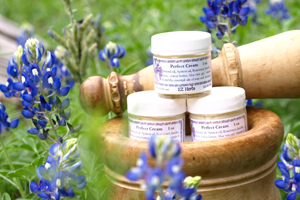 Perfect Cream
A moisturizer great for your face or entire body. Made from Apricot and/or Almond oil, Cocoa butter, Aloe Vera gel, lanolin, beeswax, Rosewater, vitamin E, Lavender and Rose essential oil.
1 oz $15.95
---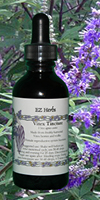 Vitex
Made with freshly harvested Vitex berries
2 oz $26.00
---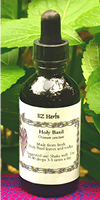 Holy Basil
Made from fresh Holy Basil leaves
2 oz $23.00
---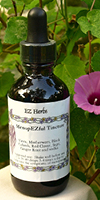 MenopEZful
A blend of Vitex, Red Clover, Sage, Motherwort, Black Cohosh, and Ginger.
2 oz $23.00
"I recently purchased two bottles of MenopEZful Tincture. I just wanted to let you know its only been 12 days since I began taking it… but these last 12 days have given me a lot of HOPE and ENCOURAGEMENT! I have not had one hot flash in 12 days. That's the BIGGEST NOTICEABLE IMPROVEMENT! And I REJOICE with that improvement! I can't say that I've noticed anything additional… YET, but am LOOKING FOR IT EVERYDAY! Thank you for being such a BLESSING!"
-Terra
---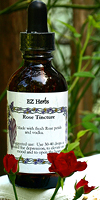 Rose
Limited supply available. Traditionally used to heighten moods. Made from fresh, organic Rose petals from EZ Herb's Garden
NEW fresh batch of Rose Tincture now ready and available.
2 oz $26.00
---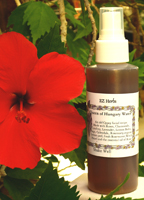 Queen of Hungary Water
An old Gypsy recipe for a facial astringent that cleanses, adds moisture, and may be sprayed on scarring.  Made from Roses, Chamomile, Lavender, Lemon Balm, Calendula, Sage, Rosemary, Lemon Peel, Rosewater, witch hazel, and essential oils of Roses and Lavender.
4 oz $16.95
---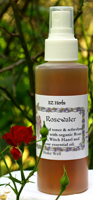 Rosewater
Afacial toner and refresher. Made with freshly picked Rose petals, witch hazel and Rose essential oil.
LIMITED SUPPLY!
4 oz $15.95
---