2017 Herb Classes
---
November 17th: 10am – 4pm
The Art of Herbal Preparations: Medicine Making |

$85.00
Learn how to make medicinal infusions and decoctions (teas), healing salves, oils and herbal tinctures. You will also learn about herbal first aid and how to make a compress and poultice. We will walk the garden, harvest some herbs and meet the most medicinal plants that grow well in our environment. Medicine Making is a sacred practice, so weather permitting we will have a drumming circle and fire to honor the plants before making our medicine. Please bring a pot-luck dish to share for lunch (include some fresh herbs if you can!).
$85.00
---
March 31st: 10am – 4pm
Plant Walk and Plant Identification |

$85.00
Learning about native and adapted plants that have great value for medicine, cooking and growing is of great interest to many people in our Central Texas area. Join us today for a stroll around my 5-acre property and 4000 square foot garden to learn to identify, grow and use the plants that are available in our own Backyard Pharmacy.
$85.00
---
Saturday, April 22nd: 2pm – 5pm
EZ Herbs OPEN HOUSE |

FREE
In honor of Earth Day I am inviting all to come on out to the garden, take a tour with me and meet some like-minded plant folks. You will be introduced to my Dynamic Dozen Herbs Plus 1 Herbs and enjoy some fresh herbal tea and snacks. The Herb Shop will be open for purchasing freshly –made, organic EZ Herbs products. Details here.
FREE
---
May 5th: 10am-4pm
Spiritual Aspect of Herbalism |

$85.00
Let's get together today and commune with the plants in a new way through guided meditation, song, drumming and using your very own good intuition. You will discover the gifts the plants have to offer us in a deep, fulfilling and magical way.
$85.00
---
**** Please bring a potluck dish to share for lunch on all full day classes. Thank you. You will enjoy healthy, delicious and shared food prepared by one another.
Students are joining together to learn about the growing habits, medicinal benefits and the glory of our green friends in so many ways.
We participate in hands-on experience, gathering plants, berries, making various herbal preparations and so much more.
Many joyous moments are experienced throughout the day learning from the plants and each other.
Since this is the last year that I am teaching the series I wanted to ask for suggestions on one or two day workshops that you may be interested in during 2017. Would you like a workshop on Women's Health, or Medicine Making or Organic Gardening? Or others??
Please send me an email to Ellen@ezherbs.net and make your requests. I will be happy to schedule those classes for next year.
Thanks so much and I apologize to those who couldn't get in to this last complete herbal series.
Many Green Blessings, Ellen
Hope to see you in a workshop next year!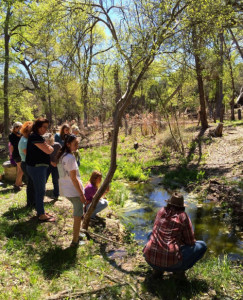 During the year one or two day special workshops are offered. In the past some of these have been on Women's Health and Vitality, The Art of Herbal Preparations, A Day of Organic Gardening and more. Please check back to learn of new events and sign up for the EZ Newsletter to be notified. A workshop can be designed and customized for you and your group. Contact Ellen: Ellen@ezherbs.net to discuss details.

Depending on the weather, Plant Walks are offered during the year at the Austin School of Herbal Studies property as well as several natural areas around the Austin area. Learning about native and adapted plants that have great value for medicine, cooking and growing is of great interest to many people in our Central Texas area. A customized Plant Walk can also be arranged for your group. Contact Ellen to discuss details.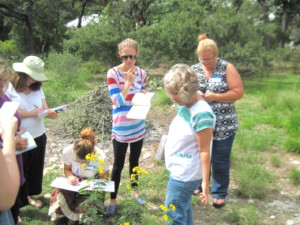 In addition to Plant Walks that I offer, I am available to consult with you on your own property and will do a Plant Walk with you to identify the natives that you already have growing and their uses. I can also advise you about landscape design, help you choose the plants that are most useful and best suited for you and your environment and help create a garden plan to suit your budget and your needs. My consultation fee is $150 for 1 ½ hours The fee will include my travel time and expense.
1 ½ hours consultation $150.00
---