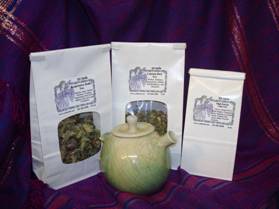 EZ Herbs products are custom blended by hand. In addition to the products listed below, other blends can be created to suit your specific needs. Choose from these handmade products or contact me to customize products for your particular situation.
*Please note that these products are not intended to diagnose, treat, cure or prevent any disease. If a medical condition persists, please consult a health care professional.
Products may be purchased online through PayPal or email Ellen. All shipping is processed by Priority Mail.
Please visit our herbal info index page to learn more about each herb used in ezherbs products.
---
Tea is a delightful way to imbibe your herbs. EZ Herbs teas are not only healthy-they taste good, too. Just brew up a cup or pot at a time, strain and enjoy hot or cold. The EZ Herbs teas are packaged loose in bags; each makes between 32 and 60 cups
.
---

Try our new Tea Infuser!

1 3/4 " Mesh Tea Infuser – Stainless Steel Now brew your tea by the cupful.
Only $4.00
---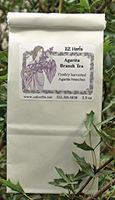 Agarita Branch Tea
Made from freshly harvested Agarita branches
Read more about agarita…
2.5 oz $29.95
Before ordering this tea, please check with Ellen about it's availability. You may also want to consider ordering Agarita Tincture on the Tincture page. Tinctures are convenient to administer.
---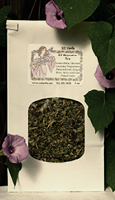 EZ Digestive Tea
A blend of Ginger Root, Anise seeds, Fennel seeds, Peppermint, Oatstraw, Lemon Balm, Lavender, and Passionflower
3 oz $13.95
---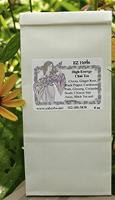 High Energy Chai Tea
A delicious, energizing blend of Cinnamon sticks, Cloves, Cardamom pods, Ginger root, Coriander seeds, Black Pepper, Chinese Star Anise, Black Tea, Ginseng and Guarana. Enjoy this blend with honey and vanilla/plain Almond milk.
4 oz $14.50
I always want a cup of Ellen's Chai Tea. Hot in the morning and after dinner or refreshingly cool on a hot afternoon. It always lifts my spirits, soothes my soul and is just plain delicious! -Linda
---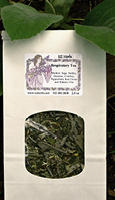 Respiratory Tea
A blend of herbs combined for cold symptoms includes: Mullein, Sage, Nettle, Knitbone, Oatstraw, Peppermint, Red Clover, and Slippery Elm
4 oz $13.95
I just wanted to let you know that the Respiratory Tea I bought from you is delicious as well as, I think effective. I really am enjoying it and feeling very healthy when I drink it! THANKS! -Margaret, customer
---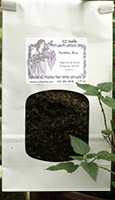 Nettle Tea
A favorite, simple herbal tea used as a tonic.
3 oz $13.50
---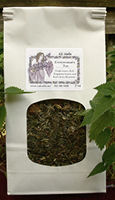 Everywoman's Tea
A lovely blend of Nettles, Red Raspberry Leaf, and Red Clover blossoms. This tea blend is good for women of childbearing years through menopause.
2 oz $13.50
---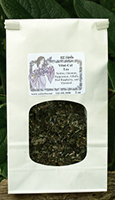 Vital-Cal Tea
The nutritious herbs in this popular blend include: Nettle, Alfalfa, Red Raspberry, Oatstraw, Pennyroyal, Peppermint, and Horsetail.
3 oz $13.50
---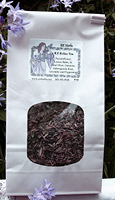 EZ Relax Tea
A blend of St. John's Wort, Passionflower, Lavender, Lemon Balm, Alfalfa, Oatstraw, Ashwaganda and Peppermint.
4 oz $13.50
Amy, a happy mom wanted to share a special story with you. We have been struggling with Asa's belly problems for over a year. After much testing, and many doctor appointments, at age 3 they wanted to give him prilosec (for life). Eli and I thought that there must be a root cause to all his problems: dehydration, unwilling to drink anything, constant stomach aches, diarrhea, intense mood swings, anger, pain, frustration over the smallest thing, dark circles under his eyes, lack of energy, total exhaustion, sensitivity to sound and light. Well, we decided to look at his diet and had already removed dairy, so when all the "tests" said no allergies, we were stumped. My sister said "try removing gluten" so as a last ditch effort we did! And wow! What a difference. Even though they had run a number of tests for gluten intolerance, nothing showed up. Once the gluten was gone from his diet, all the symptoms left instantly. Our only problem was that he still did not want to drink anything, which would lead to dehydration. We drink mainly water here and a little juice, but juice is too strong for his tummy. Long story short, he started asking for warm tea and I have been giving him your EZ Herbs Relax Tea (very diluted) with a bit of honey and almond milk. He gobbles it down and he is super calm and happy after drinking a cup. From there he will drink water or almond milk happily all day. This tea has CHANGED OUR LIVES! Thank you so much for all your effort and love to make a natural product that soothes and calms.
With much love and gratitude!
---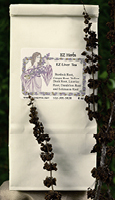 EZ Liver Tea
These fundamental herbs include Burdock root, Yellow-dock root, Echinacea root, Licorice root, Ginger root, Sassafras, and Dandelion root.
4 oz $14.50
I highly recommend EZ Liver Tea. It has helped me maintain a clean and healthy liver. I feel more energetic after drinking it. I love to drink one quart a day for a week about 4 times a year, for general well being. I will also drink it for a week after taking an occasional dose of western medicine to clear out any ill effect. It's so great I think of the pledge of allegiance: "With Liver Tea and justice for all"!!
Holly, Pflugerville, Texas
---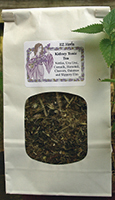 Kidney Tonic Tea
Made from Cleavers, Uva Ursi, Nettle, Horsetail, Cornsilk, Oatstraw and Slippery Elm
3 oz $14.50
A MUST FOR INTERSTITIAL CYSTITIS! Kidney Tonic Tea has changed my life! For years I have dreaded concerts, sports events, trips, etc. due to my frequent urge to find a bathroom…. I've tried various prescriptions and medical procedures that didn't help. Recently I even flew in a hot air balloon without a single worry…this tea is simple, it's safe, and IT WORKS. Thank you, Ellen, for formulating this wonderful medicine! -Jennifer
---