Spring & Fall 2016
Becoming an Herbalist Program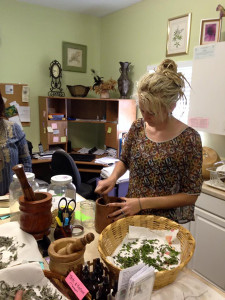 Ellen Zimmermann founded the Austin School of Herbal Studies in 1995. The school is located at Ellen's home, in her gardens and on her 5-acre botanical sanctuary located in the Hill Country just south of Austin, Texas.
The Class Curriculum is a focus on local plants and their benefits, gardening, medicine making, formulation, conducting client interviews and spiritual aspect of herbalism.

This program will emphasize a "hands on" approach to studying Herbal Medicine. Enrolling in this experiential course will provide you with the necessary skills to become a Home Herbalist for yourself, your family and friends. Taking this concentrated curriculum will enable you to become a capable Community Herbalist dedicated to be in service to others.
---
Classes meet on Fridays, 10:00am – 4:30pm
Herbal Practicum Sessions – Saturdays, 10:00am – 12:30pm
Program Highlights
We will visit the garden each week or take a field trip to a natural area, where we will connect with the plants, one on one. You will learn to identify many herbs, discover their uses and experience connecting with the plants using various methods of care and communication. You will become very familiar with the growing habits of the herbs that happily thrive here in our Central Texas environment. Students will be encouraged to grow your own food and medicine and learn helpful techniques to achieve a thriving garden, even in our difficult gardening environment.
A one on one Herbal Consultation is included with each full registration. (One hour preceding the spring semester/1/2 hour follow up preceding the fall session) This valuable consultation will allow you to work on any physical, emotional or lifestyle issues you may be experiencing.
Participating in this program will encourage all participants to network with one another in a healthy, mutually beneficial way. Previous students rave about our Friday potluck lunches.  I encourage students to prepare healthy dishes using some of the herbs we will be studying that week. For example you might include some fresh Lemon Balm in your dish if we were studying the Nervous System. We will assist and stimulate each other's healthy eating habits, be available to one another for support while learning, and remain connected to each other aswe take our skills into our own self-defined communities.
Practical Herbal Experience
Saturdays 10:00am – 12:30pm
Join us for a series of experiential clinics in my apothecary and garden where we will spend the morning learning how to prepare medicinal herbal preparations. We implement our learned gardening tips and deepen our knowledge of herbal medicine by working directly with the plants.
All herbs, materials, containers and recipes are covered in the cost of the clinic.
Class Schedule and Pricing Options
Work Study Opportunity  –  I'm sorry to those still interested, but the Work/Study position is now filled.
Ellen will be interviewing interested participants who are eligible to participate in the EZ Herbs Apprentice Work/Study program. If selected, he/she is entitled to pay ½ of the tuition and work off the balance by working in my herb shop/garden at the rate of $10.00 an hour. The W/S participant is expected to work 3-4 hrs each week to fulfill the commitments. Students applying for this position should have a willingness to work in the garden (some previous gardening experience is preferred), organizational skills, a willingness to learn product making, labeling and all other work required in the herb shop. In addition, computer skills, marketing experience and sales experience is preferred.
Informal Meet/Greets
Informal meetings will be scheduled for those of you who would like to meet Ellen, see the garden and find out more about the school.
For any questions email Ellen at: ellen@ezherbs.net
---
Testimonials
"Ellen Zimmermann is a very knowledgeable and able teacher. I use what she taught me everyday. Through her hands on course, I not only learned different herbs and their uses but also was able to apply this knowledge on a daily and weekly basis through the guided course study. Each week's class was a practicum on how to use this gathered knowledge. The sense of community and the benefits derived from the shared experiences of my fellow classmates could not be replicated through individual book study. I recommend anyone interested in learning more about how herbalism is relevant to you in the 21st century should take Ellen's courses." -Janet W
"The knowledge I gained in Ellen's Herbal Apprentice Program on the value of herbs for medicinal purposes has strengthened my connection with the plant world. I now respect and listen to the wisdom of the plants." Donna F. 

"Ellen's class has empowered me in knowing that I can help heal myself, my family and others" -Dee P 

"Divine guidance led me to Ellen's wonderful herbal school. The experience has changed my life medicinally, nutritionally and spiritually. Healing myself throughout Ellen's class has allowed me the knowledge to now help heal others. Thank you Ellen for sharing your love and wisdom" -Georgia 


"I have been blessed to spend the past five months plus in Ellen's wise and loving presence. Among many other things for which words don't suffice, she has given me the tools and confidence to reconnect with and trust my own intuition, and the ability to care for my family and Self in a grateful and holistic way." -Darlene 


"Like our ancestors did, Ellen is passing on the magic of our earth through the knowledge of plants. I have never felt such a blessed connection with herbs as I do now after being one of her students. It is something I will carry and pass on throughout my life. Thank you so much for seeing the herbalist in me !!! " -Robin
"My apprenticeship with Ellen was a sweet opening to trusting my own intuition with plants. Ellen helped me to discover and appreciate my unique way of learning and being with the plants. She shares her vast knowledge and love of plants with a holistic approach to wellbeing." -Julie