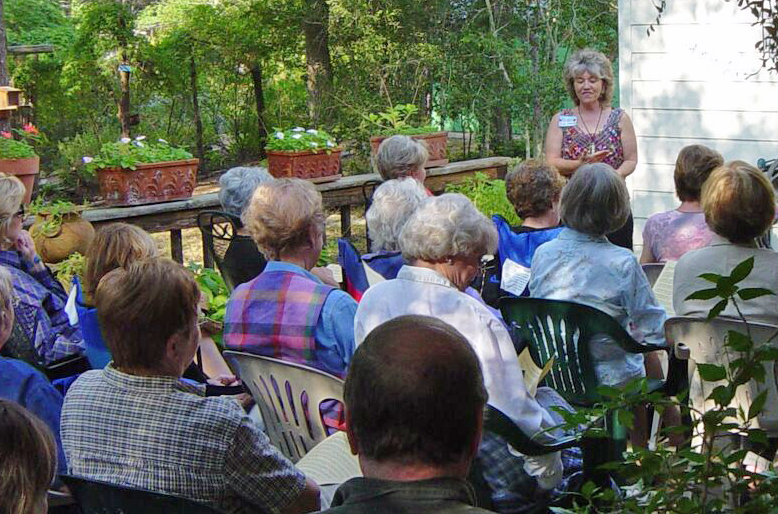 Any of these presentations can be offered as a one-hour talk or as a longer workshop. All of Ellen Zimmermann's presentations include a colorful Power Point slide show that exhibit and describe many plants in detail. A customized Power Point presentation is available upon request. Other presentations on herbalism can be customized as needed.
A Garden Tour and Talk
Bring your group on a field trip to the beautiful gardens at EZ Herbs/Austin School of Herbal Studies. Your organization will enjoy a customized presentation on herbs, a garden tour, herbal teas, snacks and more.
Download additional information about "A Garden Tour and Talk"
The Wonder of Herbs
This talk offers an overall look at the many uses of herbs. Herbs are used for their sheer beauty and grace, for landscaping, for culinary pleasures, for making cosmetics, skin care products and for medicine.
Growing & Using Local Herbs for Everyday Health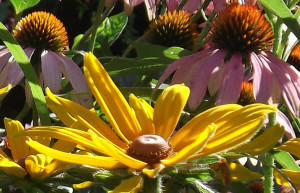 When you or your family members have a problem, the first line of defense can easily be a hot cup of tea, an herbal bath and bed rest. Using natural methods for health care is empowering to the user, economical, practical and easier on your body. Please join me for an informative talk where we'll learn about everyday health problems and how to deal with them naturally. We'll review Ellen's Dynamic Dozen Herbs that grow best in our environment and learn their many important uses. Of course, today we have the best of both worlds available to us, so we can easily ask for appropriate medical intervention when necessary. So let's get together and enjoy some herbal tea, practical information and learn which herbs will grow best in your own backyard pharmacy.
Herbal First Aid
A garden is a beautiful, soothing and healing place. Your garden is a sanctuary where you can be at peace, meditate and commune with the wonders of nature. If you are lucky enough to have your own garden, it can be your personal pharmacy, or at least a place where you can harvest some herbs and treat some minor first aid situations. If you do not have your own garden, you can still create a practical herbal first aid kit that can be used to treat difficulties such as insect bites, cuts, bruises, burns, wounds, fever, digestive problems, nausea, muscles aches and more. Learn how to create such a kit and have fun exploring its contents with me.
Herbs for Woman's Health
A woman's body is a precious gift. To ensure that your body maintains energy, vitality and the glow of optimal health, the use of herbs is an excellent addition to a woman's nutritional and health program. In this talk you will learn about several herbs that are helpful for adolescents, women of the childbearing years, and both pre- and post-menopause. You will discover the joy of creating your own tea blends, using herbs in your food and the convenience of using herbal tinctures.
An Introduction to Herbal Medicine
This lively presentation includes the history and uses of plants since history was recorded. Growing medicinal plants, proper harvesting and storage techniques, and how to take herbal medicine will be covered. If this talk is offered as a full day workshop, several hands on demonstrations on making your own herbal medicinal preparations will be included.
Herbs for Common Ailments
This talk will cover various systems of the body including the nervous, respiratory and immune system (as well as others), while discussing several common problems, which may occur within these systems. Specific herbs for specific problems will be discussed.
The Uses of Native Texas Plants
Living in Texas requires a patient and forgiving gardener and nature lover. In this class you will learn about many of our native plants and herbs and their practical, edible and medicinal uses. You will also learn about growing these plants in your own garden.

The Mystery and Spirituality of Herbs
For those seeking emotional and spiritual growth, the plants can direct you. Invite your group out to our 5-acre Botanical Sanctuary and together we will explore the healing power of Nature. The plants will teach us about connectedness, healing, gratitude and so much more. If the season permits we may have a fire circle with drumming, singing and sharing our wisdom.
Some of Ellen's clients for presentations include:
Central Texas Gardener
16th Annual Women's Herbal Conference, New Hampshire
American Botanical Council
Ladybird Johnson Wildflower Center
University of Texas Continuing Education Department for Nurses
Zilker Garden Festival
3M
Herbalists of Texas
People's Pharmacy–"Let's Get Healthy" radio show
The Crossings
Seton Cove
Seton Hospital
Hospice Austin
Whole Life Expo
United Plant Savers Annual Conference
Herbal Forum at Round Top
Austin Herb Fest
Mayfield Park Gardening Symposium
The Natural Gardener
Earthworks Nursery, Victoria, Texas
The Great Outdoors Nursery
Various Garden Clubs
Texas Herb Growers and Marketers Association
Rockport Herb Society
San Antonio Herb Society
Antique Rose Emporium
San Antonio Herb Festival
Texas Comptroller's Office
Austin Herb Society
Blanco Lavender Festival 2009
Sun City Nature Club
To discuss scheduling a presentation please contact Ellen at Ellen@ezherbs.net or call 512-301-5838.