Are you experiencing physical or emotional changes that are concerning you?
Do you want a more balanced life that includes a holistic approach to your health care?
This would include eating healthier foods, more exercise, using fresh herbs, doing something creative everyday and enjoying psychological and spiritual growth?
Are you considering an alternative approach for health care?
Are you getting the results you want from over-the-counter or prescription medicine?
Do you need an Herbal Consultation?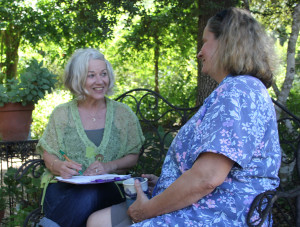 You may want to consider having an Herbal Consultation with Ellen Zimmermann.
In the relaxed atmosphere of my home office and herb gardens in the Austin Hill Country, I offer personal herbal consultations to people interested in learning more about herbs and their benefits. As a practicing psychotherapist for the past thirty-three years, I have developed excellent skills in empathy, communication and education.
Each one of us has a concern about our health and well being and many of us are interested in promoting and practicing natural health care. In practicing good health care, I believe in complementary medicine as the most holistic approach in order to maintain a healthy balance.
We can visit my garden, learn which plants are traditionally used to benefit a specific concern and talk about various methods of practicing good self health-care.
In a 1 ½ hour session we will review a complete Personal Health Profile including:
Medical history
Nutritional habits
Exercise routines
Emotional status
Relationship issues
Lifestyle practices
Anything else pertinent to the reason you are seeking a consultation.
Through dialogue, over a cup of tea, together we will formulate a specific regime for your good health. This regime will likely include:
Improved dietary practices
Herbal remedies including teas, tinctures, salves or a customized herbal formula
Exercise program
Lifestyle changes
Vitamins and supplements
Recommendations for complementary therapies
Consultation – 1.5 hour session plus a 30 min follow-up $125
Please email ellen@ezherbs.net to set up a date and time for your consultation.
Herbal Consultation via telephone
If you have only a few specific questions, you may want to request a 20 minute conversation with Ellen to dialogue about the answers/recommendations.
Phone consultation – 20 minutes $35
Please email ellen@ezherbs.net to set up a date and time for your consultation.
Complementary medicine can be used together with conventional medicine.
Some included therapies:
Acupuncture
Massage
Herbal medicine
Yoga
Meditation
Chiropractics
Counseling
Energy work
**The services performed during these meetings are at all times restricted to consultation on the subject of nutritional health and do not involve diagnosing, treatment or prescribing remedies for the treatment of disease.